Use your mouse to pause or click on the images
Maui County Calendar of Events
Choose a day to view events
523
upcoming events in the database
Browse this
Week
or
Year
at a Glance
EVENT DESCRIPTION
[ Pageviews: 1831 ]
Odissi - Classical Indian Dance - Weekly Class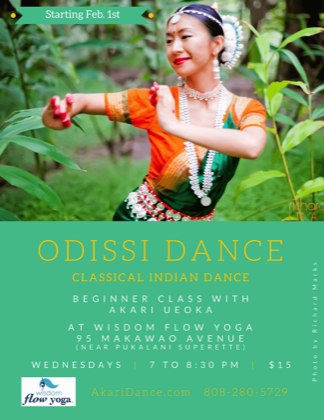 Odissi
is one of the traditional Indian dance forms.
It originated in the state of
Orissa
(or Odisha).
It was performed in the temples as an offering by the
Maharis
who dedicated their lives to the service of the divine.
After the British took over India, Odissi was prohibited – a restriction that can be likened so the abolishment of the Hawaiian hula.
The tradition of Odissi was secretly embedded and carried on in
Gotipuas
, acrobatic boy dancers; and as India regained its independence, great efforts to revive the classical Indian dance forms emerged. Today, Odissi has found new life on stages around the world.
Due to this important historical background, when we perform on a stage, we consider it as a ritual in the presence of Jagannath, which means Lord of the Universe.

It allows us a moment to be spectators of the rich tradition and spiritual practice, which elevates our lives toward oneness.
Learn this beautiful ancient art form with
Akari Ueoka
at
AkariDance.com
.
EVENT DETAILS
This is an Ongoing Event occurring on Wednesday of every week.
Time: 7:00 pm to 8:30 pm
Cost: $15
Categories: Dancing
EVENT LOCATION
Wisdom Flow Yoga
96 Makawao Ave.
Pukalani, HI USA
Island Area: Upcountry
Email:
Website: http://mauisomatics.com
Location Specifics: 95 Makawao Avenue, Pukalani, HI
EVENT CONTACT INFORMATION
Contact: Akari Ueoka
Phone: 808-280-5729
Email:
Website: www.akaridance.com/